6th Annual A CALL FOR BACKUP
February 28, 2020
Back up Kansas City's finest men and women in blue at the 6th annual A CALL FOR BACKUP, the Police Foundation of Kansas City's annual benefit to spotlight the tremendous work of the men and women of our Kansas City, Missouri Police Department and to raise funds for strategic initiatives that the Department cannot obtain through tax support.
All sponsors will enjoy a cocktail reception in the lobby of the historic Muehlebach Hotel hosted by the Police Department with interactive equipment displays showcasing the equipment that continues to benefit our community and the Department followed by dinner, auction, and a keynote presentation.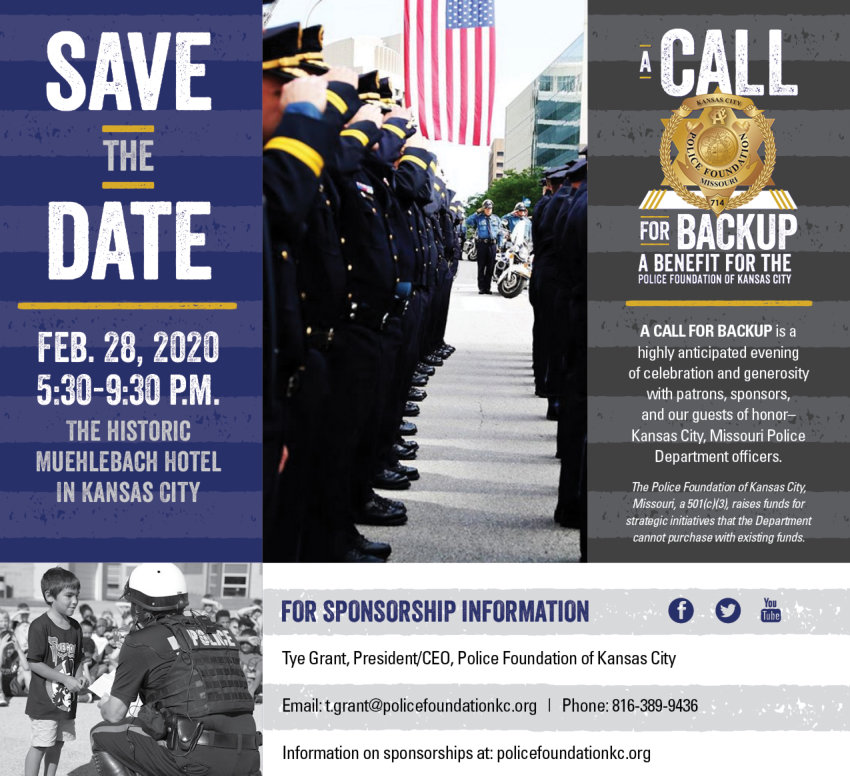 Our 2020 Event Featured Speaker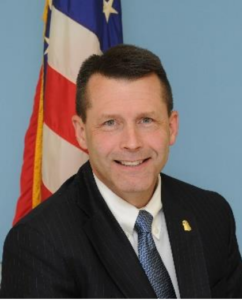 Darrin E. Jones, a 20-year FBI veteran, was named as the assistant director of the Information Technology (IT) Infrastructure Division of the FBI in May 2019. As part of the Information Technology Branch (ITB) of the FBI, the ITB is responsible for all FBI information technology needs and information management. ITB also promotes and facilitates the creation, sharing, and application of FBI knowledge products with the larger law enforcement community in order to improve overall nationwide crime fighting effectiveness. Prior to this position, Jones was special agent in charge of the Kansas City division of the FBI. Under his leadership, the FBI worked to build a cadre of extraordinarily professional and competent digital examiners to help solve crimes
Jones began his FBI career in September 1997 as a Special Agent in the Salt Lake City Division where he investigated international drug trafficking, cybercrime, and helped lead the counterterrorism planning for the 2002 Olympics.
Jones has worked on numerous projects, all of which promoted the cultivation of close working relationships between the FBI and high technology companies. He has managed criminal cyber cases as well as national security intrusion investigations.
In his current role, Jones works to support the FBI's mission to deploy improved technologies and solutions to enable the FBI to protect the American public from terrorist attacks and prevent crime. The ITB remains committed to delivering enhanced IT capabilities that support the FBI's ever-changing and challenging needs.
A native of Nebraska, Darrin Jones is married and the father of two children.
Police Foundation of Kansas City
A Foundation for a Safer Community!
MISSION STATEMENT
The Police Foundation of Kansas City, is a 501 (c) (3) corporation formed by citizens focused on reducing crime and to making the community safe for all concerned. The Foundation does so by generating funds and other support for the Kansas City, Missouri, Police Department to enhance public safety and law enforcement programs that are beyond the level of support of other funding.
Police Foundation of Kansas City – How We Help Video
Listen as Kansas City Police Officers explain how the work done by The Police Foundation of Kansas City helps keep us all safer.
From our Chief of Police
The Police Foundation is an incredibly valuable asset to the Kansas City Missouri Police department and to all of Kansas City. With their support, we're able to train and equip our officers in a way that allows them to more efficiently and effectively carry out their duties. Over the last several years, the Police Foundation has provided millions of dollars in equipment, technology, and training to our department, which is well beyond the level of support of other funding. We have been able to use those things strategically to prevent and solve violent crimes. The Foundation's work and contributions to our department make Kansas City a safer place for all of us, and we are grateful for their partnership.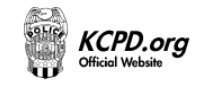 VISION STATEMENT
To make Kansas City one of the
safest cities in America.