Back up Kansas City's finest men and women in blue at the 6th annual A CALL FOR BACKUP, the Police Foundation of Kansas City's annual benefit to spotlight the tremendous work of the men and women of our Kansas City, Missouri Police Department and to raise funds for strategic initiatives that the Department cannot obtain through tax support.
All sponsors will enjoy a cocktail reception in the lobby of the historic Muehlebach Hotel hosted by the Police Department with interactive equipment displays showcasing the equipment that continues to benefit our community and the Department followed by dinner, auction, and a keynote presentation.
Police Foundation of Kansas City Board selects new president and CEO
The Board of Directors of the Police Foundation of Kansas City has selected Matthew "Tye" Grant as the organization's new president and chief executive officer.
Board Chairman Frank Uryasz, "The Board of Directors of the Police Foundation found their next great leader in Tye Grant. Tye's executive and leadership experience with KCPD will help our Foundation leverage public and private community resources to make Kansas City a safer community."
The Foundation's mission is to raise funds that are not available within the Kansas City Missouri Police Department's existing/projected budgets, or through tax support or other sources. The Foundation has assisted the police department with technology, training, youth intervention projects, forensics, neighborhood safety and more.
Grant recently retired as a major from the Kansas City Missouri Police Department, where he was a 26-year veteran. He led the department's Violent Crimes Division upon his retirement. Under his leadership, the department's 2018 homicide clearance rate was the highest in recent memory. Grant also has experience in narcotics investigations, media relations, patrol, tactical enforcement and training. He was a subject matter expert for KCPD and the Attorney General's Office specializing in law enforcement policy, law enforcement training and response to resistance options. He also served as the Weapons of Mass Destruction Safety Officer for the NFL assigned to the Kansas City Chiefs as well as their law enforcement coordinator.
"I am very excited to be able to continue my career supporting our city and to partner with the members of the board at the Police Foundation to help raise funds to make Kansas City a safer community," Grant said.
Grant has a bachelor's degree in criminal justice administration from Missouri Southern State College and a master's degree in Public Administration from Park University. He is married with two young-adult children.
July 29, 2019
Thank you to everyone who answered #ACallForBackupKC to raise funds for the Police Foundation of Kansas City.
Police Foundation of Kansas City
A Foundation for a Safer Community!
MISSION STATEMENT
The Police Foundation of Kansas City, is a 501 (c) (3) corporation formed by citizens focused on reducing crime and to making the community safe for all concerned. The Foundation does so by generating funds and other support for the Kansas City, Missouri, Police Department to enhance public safety and law enforcement programs that are beyond the level of support of other funding.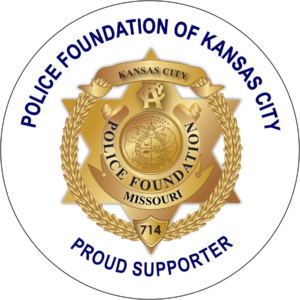 Show Your Support
Get Your PFKC
Window Cling !
Good to place on the inside of a window for a car, home or business to show your support.
Yours for a $25.00 Donation
From our Chief of Police
The Police Foundation is an incredibly valuable asset to the Kansas City Missouri Police department and to all of Kansas City. With their support, we're able to train and equip our officers in a way that allows them to more efficiently and effectively carry out their duties. Over the last several years, the Police Foundation has provided millions of dollars in equipment, technology, and training to our department, which is well beyond the level of support of other funding. We have been able to use those things strategically to prevent and solve violent crimes. The Foundation's work and contributions to our department make Kansas City a safer place for all of us, and we are grateful for their partnership.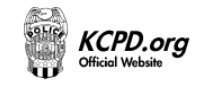 VISION STATEMENT
To make Kansas City one of the
safest cities in America.